| | | | | | | |
| --- | --- | --- | --- | --- | --- | --- |
| | | " | | I'd rather not get punted off a bridge, hex you very much! | | " |
— Daami Hiiri, about her destiny
Daami Hiiri is a 2019-introduced and all-around character. She is the daughter of the Mouse Bride from the Finnish story "The Forest Bride". In the destiny conflict, Daami considers herself a Roybel. In her story, the Mouse Bride is cursed to stay as a mouse until someone fell in love with her, agreed to marry her, and then someone else kicked her into the river. Once these things occurred, she returned her true form, which was a beautiful noblewoman. Daami is perfectly fine with her mousy attributes, and can't believe how convoluted the qualifications for her to become fully human are. 
Character
Personality
TBA
Appearance
Daami has hip length pale blonde hair, and cerulean eyes. 
Fairytale – The Forest Bride
How the Story Goes
Relationships
Family
TBA Friends TBA
Pet
Kal
While Daami's family employs many mice, Daami has a special bond with Kal, a teeny little thing who always seems out of it. He usually munches on sunflower seeds and cuddles in Daami's hair.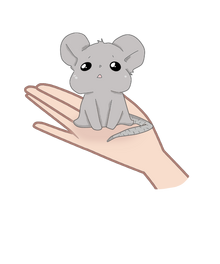 Romance
TBA
Enemies
TBA
Outfits
TBA
Trivia
Kal, the name of Daami's mouse friend, means "The Strong One" in Finnish, Daami's native language.
The name "Daami Hiiri" literally translated means "Lady Mouse".
Daami and Valtias' mother was given the name Rouva Hiiri by their creator, which literally means "Mrs. Mouse".
Their father's name, Veiko, literally means "brother". He was named by the original author of the story.
Quotes
Gallery
TBA
Community content is available under
CC-BY-SA
unless otherwise noted.