Hi. I'm Eccentric Soul. Like it says in my profile's page, I have a diversity of tastes in entertainment. From Anime to cartoons. From mystery to supernatural. From realistic to fantasy. From suspense to humor. The main factor is good looking men though.
I also like books, comic books, and video games.
There's not that much to say about me that's exciting. I do have Asperger's Syndrome, so in real life it's really difficult to make friends and to keep them; even more difficult for romance.
I am grateful that I have a family who loves, supports and tolerates me. Plus all my pets.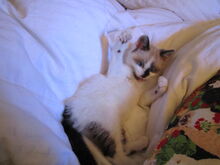 Any way, if anyone has any suggestions to improve this, please let me know.
Thank you for your time and patience.
My Character
Community content is available under
CC-BY-SA
unless otherwise noted.