Welcome to the Ever After High Fandom Wikia!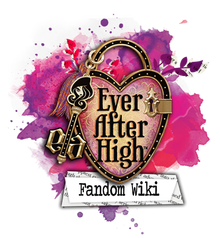 Welcome to the Ever After High Fandom Wikia.

Here, fans of the franchise can post their original characters, fanfiction and fanart, interact with other fans and show off their creativity.

Happy rewriting, authors of your own story!

If this is your first time here, please read our guides before proceeding.

We currently have

5,447 articles

.
The OTMs ("Of the Month"s) are a user based vote hosted every month on the Ever After High Fandom wiki. There are two votes, Character of the Month and Ship of the Month. The winners of each are given a feature on the front page for a month.

All previous winners are posted permanently on the COTM and SOTM pages and the voting is done via the blogs. Find the current vote here!
This March, we're pressing F to pay respects for the living dead meme, Auliver Midas! The son of King Midas and always in the public eye, Auliver hides his real self behind a meme-y, MirrorNet facade. An OC so Classic, he's gone past the Gold Age into Platinum. The EAHFW community gildes him with the laurels of COTM, for his neverending ore-some wit!
The Ship, or Squad, of the Month is one entire Round Table! Taking home the Holy Grail of victories is The Arthurian Legends, comprised of several EAH students' following various roles in Arthurian Legend. Although their backgrounds are scattered across various parts of the British Isles, they have one thing in common -- they play key roles, whether large or small, in one of the most intense romanz traditions of all time.
Favourite EAH male character?