Welcome to the Ever After High Fandom Wikia!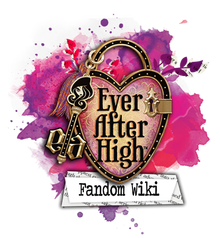 Welcome to the Ever After High Fandom Wikia.

Here, fans of the franchise can post their original characters, fanfiction and fanart, interact with other fans and show off their creativity.

Happy rewriting, authors of your own story!

If this is your first time here, please read our guides before proceeding.

We currently have

5,507 articles

.
The OTMs ("Of the Month"s) are a user based vote hosted every month on the Ever After High Fandom wiki. There are two votes, Character of the Month and Ship of the Month. The winners of each are given a feature on the front page for a month.

All previous winners are posted permanently on the COTM and SOTM pages and the voting is done via the blogs. Find the current vote here!
After months of herding votes, Minton Pan this month's COTM winner. Perfect for spring, this ever-so-slight-rebel has herded (and hoarded!) our community's love, filling our community with as much joy and altruism as she brings to the world of Ever After. Minton's unique circumstances make her a perfectly soot-able April winner; we just hope she likes winning awards as much as she likes giving gifts!
Everyone's dying to know who has won Ship of the Month this April and we are hexcited to announce that it's none other than Fanfarinet 451! During their time at Ever After High, Airmid Valerian and Bastion Fanfarinet forged a bond unlike any other, through Scrollex watches and manhunts, the prospect of death and some epic others. Although their paths have diverged we hope that April's SOTM Award isn't the end of this just-blossoming friendship.
Favourite EAH male character?