Welcome to the Ever After High Fandom Wikia!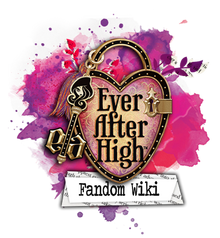 Welcome to the Ever After High Fandom Wikia.
Here, fans of the franchise can post their original characters, fanfiction and fanart, interact with other fans and show off their creativity.
Happy rewriting, authors of your own story!
If this is your first time here, please read our guides before proceeding.
We currently have 7,295 articles.
Character of the Month
Wafa Wasir is the next Grand Vizir from

The Story of the Vizir Who Was Punished

. She is a Neutral written by Sleepyroses.
Click here to vote for the next Character of the Month award.
When it comes to Wafa, the key word is "passionate". She's passionate about her goals and her values, and Zara is ever-so-passionate about bringing her to life. Just as Wafa is careful about details, Wafa is written with careful detail that builds up her dimensional character. It's no debate: she is the girl you want as your friend.
Feature of the Month
Brittany Bratwurst is a character written by NibiruMul.
Click here to vote for the bi-monthly Ship of the Month award.
Brittany easily slots into an Ever After High webisode, and is written with the hexact kind of humour Mattel would employ. Nibs cleverly plays on the absurdity of Brittany's fairytale with her comedic spin. In all her straightforward charm, it is no wonder why reading Brittany's page will always illicit a sensible chuckle.