Welcome to the Ever After High Fandom Wikia!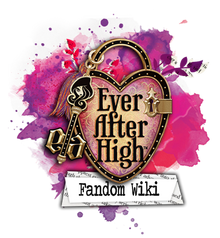 Welcome to the Ever After High Fandom Wikia.
Here, fans of the franchise can post their original characters, fanfiction and fanart, interact with other fans and show off their creativity.
Happy rewriting, authors of your own story!
If this is your first time here, please read our guides before proceeding.
We currently have 7,282 articles.
Character of the Month
Opal Wicked is the next The Wicked Queen from The Wild Swans. She is a Rebel written by Cerisefan03.
Click here to vote for the next Character of the Month award.
Opal drew the attention and adoration of Wiki users through her sweet and endearing nature: in fanfiction, we see how she's determined to remain kind despite the judgement she receives. The various dynamics Ris writes further allow Opal's multi-faceted nuances to shine.
Ship of the Month
Galvin Gwyar and Livanius "Livy" Laurentiis, otherwise known as When in Rome, is a romantic dynamic written by EmperorPeacock.
Click here to vote for the bi-monthly Ship of the Month award.
It is little surprise that this ship set in the future is timeless. Each piece of content - fanfiction, blogs, AUs - for Haul and Livy reveals a stunning mosaic of their love story. With no doubt, this relationship is the final laurel resting at the end of each character's arc.