Welcome to the Ever After High Fandom Wikia!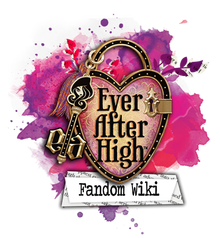 Welcome to the Ever After High Fandom Wikia.

Here, fans of the franchise can post their original characters, fanfiction and fanart, interact with other fans and show off their creativity.

Happy rewriting, authors of your own story!

If this is your first time here, please read our guides before proceeding.

We currently have

6,204 articles

.
OTMs
The OTMs ("Of the Month"s) are a user based vote hosted every month on the Ever After High Fandom wiki. There are two votes, Character of the Month and Ship of the Month. The winners of each are given a feature on the front page for a month.

All previous winners are posted permanently on the COTM and SOTM pages and the voting is done via the blogs. Find the current vote here!
Character of the Month
Roll up, roll up! April's Character of the Month is none other than Ablative Charming! This future Emperor can rest on her laurels knowing she came, she saw, she conquered, securing her place in Wikia legend. Be sure to send many congratulations and your taxes to April's favourite Roybel, for when in Rome...
Ship of the Month
Only one of them is royal, but look out - The Court is now in session. Reina Maledi, Lilura Goya and Nobelle Fox are the coolest of the villain kids, and it's clear that the underground of Ever After High is their turf. These killer kids are the sort witch you don't want to cross - that won't fae well.
Poll
Which fairytale power would you want?