Welcome to the Ever After High Fandom Wikia!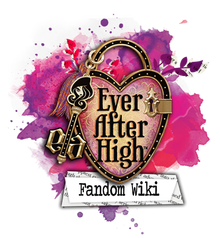 Welcome to the Ever After High Fandom Wikia.

Here, fans of the franchise can post their original characters, fanfiction and fanart, interact with other fans and show off their creativity.

Happy rewriting, authors of your own story!

If this is your first time here, please read our guides before proceeding.

We currently have

6,309 articles

.
OTMs
The OTMs ("Of the Month"s) are a user based vote hosted every month on the Ever After High Fandom wiki. There are two votes, Character of the Month and Ship of the Month. The winners of each are given a feature on the front page for a month.

All previous winners are posted permanently on the COTM and SOTM pages and the voting is done via the blogs. Find the current vote here!
Character of the Month
Gwendolyne "Gwen" E. Vere is the queen of Camelot, queen of our hearts, and the queen sitting smugly on the throne of Character of the Month. With wits sharp as Excalibur, a mind quick as an unladen sparrow, and a facade as hidden as the Holy Grail, Gwen is far more than the benevolent persona she posses. Watch out, there is no snake in the grass-- she is found in the court of Camelot.
Ship of the Month
Some of us might be acquainted to call ourselves "friends of Dorothy", but William Darling is the one lad who can call himself More Than Just A Friend of Dorothy. Along with Damon Gale, the two blue-clad protagonists are the Ship of August! Throw up your arms in spellebration, shine off your best red-silver shoes, for a duo desperate to grow up and grow old together.
Poll
Favourite EAH male character?
Community content is available under
CC-BY-SA
unless otherwise noted.