| | | | | | | |
| --- | --- | --- | --- | --- | --- | --- |
| | | " | | Erm.... What do i put in here? | | " |
— Gary breaking the fourth wall and asking about this quote box
Erm Hi. I am Garrison Esel. But my nickname is Gary. Erm... I am Larry and Lauren's twin brother so i am from that story about that puppet who wants to have flesh. I have to become a donkey. Thats it. 
Portrayers
again it would be Joey Graceffa, since Gary is Larry's twin.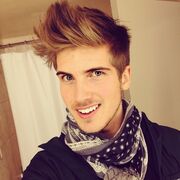 Character
Personality
Gary is a lot like his brother Larry in looks, but is quite a bit different personality wise. He has an interest in learning new things and has a taste in reading a lot of books. His brother Larry thinks he is a nerd but Lauren, his twin sister is a bit proud of Gary, for not being as much as a derp. Gary is also confused and feels he is trapped in the wrong body. He feels he should be a girl, but never told this to anyone. If he did, Tessa would find out eventually and dump him. Because of this, he is pretty distant from his siblings and wishes to be a girl. 
Appearance
Browny blonde hair, blue eyes, donkey ears and a donkey tail. 
Story
Relationships
Family
Gary is twin brother of Larry Esel and Lauren Esel, making them triplets. He also has other siblings named Carrie, Jerry, Mary, Terrie, and Sherri Esel. 
Friends
Gary is aquaintances with some donkey boys in Larry's group, but besides that maybe Wildney Swan, who is his secret crush. 
Pet
Gary has a pet pug named Fabioneenee. 
Romance
He is dating Tessa Turchese , Daughter of the Fairy with the Turqoise hair. Larry tells him that she is way too out of his league though, but he never listens to him. He has never had the guts to tell Tessa about his feelings of wanting to become a girl, since he thinks she wouldnt understand. 
Trivia
Theme Song
Gallery
Community content is available under
CC-BY-SA
unless otherwise noted.