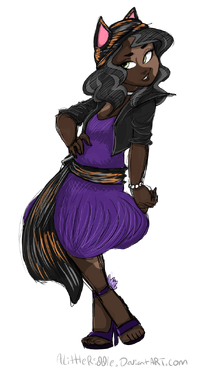 Halldóra is the daughter of Kisa.
Bio
PARENT'S STORY: Kisa the Cat
ROOMMATE: ???(Will be added later)
SECRET HEART'S DESIRE: To enjoy life as a human as long as possible, one day I'll be a royally beautiful cat- so I want to enjoy my time as a human being.
MY "MAGIC" TOUCH: I'm pretty much like a good luck charm, giving good fortune to those in my presences. 
STORYBOOK ROMANCE STORY: ???(Will be added later)
"OH CURSES!" MOMENT: My good luck doesn't work in the presences of jinxes, curses, black magic, etc. so if those's dark things are near my good luck is useless or can even worsen the dark magic. Which is never good.
FAVORITE SUBJECT: Debate, I tend to have an upper claw in arguments. 
LEAST FAVORITE SUBJECT: Swim Class, I'm terrified of water! 
BEAST FRIENDS FOREVER AFTER: ???(Will be added later)
Notes