ILoveRomione is an exceptionally insane 14 year-old with a love of RPing and Fanfiction. Her actual name is Naomi though she prefers being called Mona. Called Cassidy-Leah-Radford on Fanfiction she is usually known for her Duchess/Sparrow works (of which she has written plenty). She is a grammar nazi and has been known to constantly correct people while they're speaking (subsequently annoying the heck out of them).
She is addicted to Ever After High; Sparchess; the internet and fudge (don't forget coffee). She is probably the oddest person on the planet and has a menagerie of words that don't exist in her vocabulary. This aids her weirdness in making it impossible for people to understand her at all. One last thing - she loves to be a know-it-all and her friends often complain about her constant use of the word 'Actually.."
Original Characters
Marissa Jones :

Daughter of Davy Jones and my main gal with whom I usually roleplay with.
Ember Ella :

Yeah, she's the sister of a canon character. Please don't hate.
Gineva Gvidon :
Daughter of the prince from the Saltan's Tale (A russian fairytale).
Delilah Gale : 

A Daughter of Dorothy with a slight twist.
Fanfiction
What Duchess Wanted : My ongoing story all about Duchess Swan and how she percieves the word of Ever After and beyond.
Love Lost : A One-shot set 6 years after Duchess graduates and the rebellion has taken a turn for the worst.
Feathers in Your Mouth : A short, fluffy Sparchess one-shot set before Thronecoming.
Distractions, Distractions : A One-shot in progress requested by a fan on FF (Yep, Dapple)
My EAH Headcanons
Apple is secretly insecure about her hair colour and is often ridiculed because of it.
Ashlynn has huge feet but wears shoes that conceal this fact because she doesn't want anyone to know.
Dexter is Ashlynn's Prince Charming.
Cupid and Dexter will end up together once Dexter gets his head out of his a** and realises that there is a girl who knows he exists and likes him just the way he is.
Cedar hates the fact that she can't lie and telling a lie is one of her biggest aspirations 
Blondie dyes her hair blonde because it is secretly brown (or black).
Briar is secretly a rebel and was glad that Legacy Day was cancelled after Raven rebelled because she hadn't yet signed.
Kitty has a crush on Cerise and was just trying to get Cerise to 'Let It Go' when she was exposing her secret.
Lizzie hates saying 'Off with your head!' and actually finds the idea of chopping people's heads off disgusting.
Cedar was cursed to never tell a lie by her grandfather Geppetto so that she could avoid the tragedies that lying brought her father.
Daring will fall in love with his mirror and become the next Narcissus.
What I Ship
Top Ships
Sparchess - My OTP to end all OTPs..
Poison Apple - The way Raven looked at Apple in 'Apple's Birthday Bake-Off' and the "Little bit of love" comment started it.
Briar/Hopper - If only Hopper could prove that he was man enough for her *sigh*
Cuter - Is multishipping bad?
Eh Ships
Dexter/Cedar - Like it but it's not as cute as some.
Huntlynn - It's okay but the relationship gave no character developement whatsoever.
Briaven - I could ship this if I didn't ship Rapple.
Madter - Strange, but I've shipped it.
Hopper/Cupid - Pretty cute. If there was fanfiction for this I'd read it.
Never will I ever Ships
Darise - Sorry, but no. Daring is way too much of a jerk.
Dexven - The whole True Hearts Day mixup totally put me off this.
Sparrow/Poppy - Never! Sparrow and Duchess belong together!
Crack Ships
Cerise/Hopper - It just happened.
Maddie/Giles - Yep. 
Apple/Medic Guy - The chemystry.
Dirror - Daring and his mirror. The ship that shall take the world by storm.
Duchess/Hunter -  I don't even know.
Character of the month
Okay, every month I'll choose my favourite character by another person and draw a bust of them. This month (June) I chose Kayla Eternity ; the sassy daughter of Gerda and Kay. So I upgraded my art trade with her owner - MeridithAgnesPoe and she got this bust of Kayla: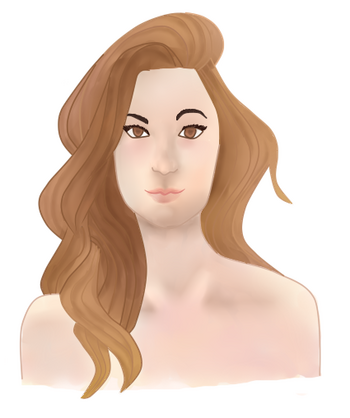 Ship of the month
Rapple. The fluffiness is overwhelmingly adorable. Just look at this! Can you not see the chemystry? I must write a fic for them!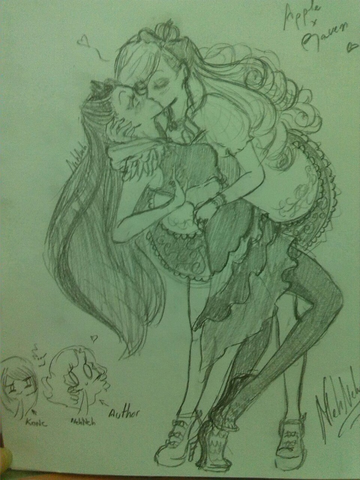 Trivia
Mona loves fudge so much that she would eat all the fudge in the world if she could. Then she would make more and eat that too.
Mona is a Virgo, though the label of neat does not apply to her.
She is constantly being asked why she bothers reading. She replies that if you don't you end up an imbecile. They then proceed to ask her what an imbecile is.
She has two younger brothers who drive her insane. The youngest has hit her with a tennis racket. The eldest with a hockey stick.
Maths is Mona's forte. It's her favourite subject even though her maths teacher is the most boring one she's ever had.
She has three dogs. Brandy, Whiskey and Digger (Bet you expected another one named after alcohol)
She has zero volume control and is often told to just shut up. It doesn't work tough; even her whisper can be heard from a mile away.
She has about 13 different laughs; all of which are just as strange as the last.
She hates the ammount of hate in the Ever After High Fandom and firmly believes that people should be able to ship what they want to ship.
She lives in the country that most people (That she's met)  think has lions roaming the street and no TV
She's serious abou the no TV one. She went on a school exchange program to England and one teacher asked if she owned a TV. She felt like slapping the woman.
She enjoys derping about crack ships (she ships Cerise/Hopper and Maddie/Giles)
She drank 6 cups of coffee before coming up with this page.
She has made a commitment to make everyone on this wiki ship Dirror. She plans to take over the world afterwards.
She knows the funky chicken.
Gallery
Community content is available under
CC-BY-SA
unless otherwise noted.