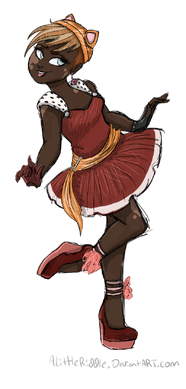 Jóhanna is the daughter of Kisa
Bio
PARENT'S STORY: Kisa the Cat
ROOMMATE: ???(Will be added later)
SECRET HEART'S DESIRE: I want to explore the world and enjoy life as a royal human.
MY "MAGIC" TOUCH: I can heal others through magic.
STORYBOOK ROMANCE STORY: I honestly don't care for romance right now, I have forever after to find my prince.
"OH CURSES!" MOMENT: I have an obsession with fur! I just love the feel of it.
FAVORITE SUBJECT: Kingdom Management, I expect that one day I'll rule mighty kingdom and be of course be queen of the throne.
LEAST FAVORITE SUBJECT: Che-myth-stry, all those chemicals stain fur! No way am I letting my royal threads get ruined by harmful potions.
BEAST FRIENDS FOREVER AFTER: ???(Will be added later)
Notes
Is destined to be the next Kisa.
Sister: Halld

óra Felis